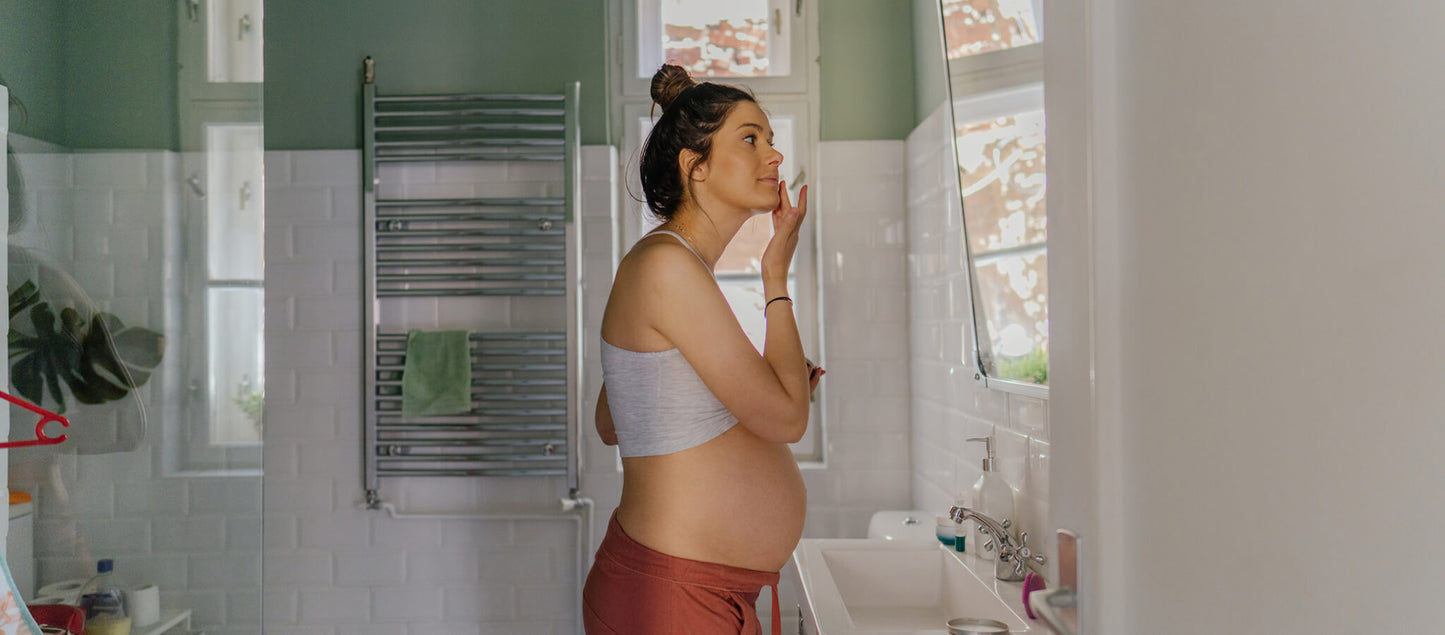 Essential skincare tips for pregnant women
Congratulations! You're pregnant. This is such an exciting time of life for you, your family, your friends and of course that little one growing inside you. As a pregnant woman, you've probably noticed some changes to your skin since you've gotten pregnant. It's important to pay attention to these changes and to keep your skin clean and fresh throughout the entire pregnancy. And while there are plenty of skincare products available, there are certain skincare products that are safe and others that are unsafe during pregnancy -- and it's important to know the difference. Keep reading to learn all about essential skincare tips for you -- so that you look and feel your best throughout pregnancy and beyond.
Can I use skincare while pregnant?
Yes, absolutely! In fact, it's important to keep up a good skincare routine while pregnant.
That being said, make sure you're using skin care safe for pregnancy. Skincare ingredients to avoid during pregnancy include retinol, benzoyl peroxide, salicylic acid, hydroquinone, parabens and aluminium chloride. Skincare ingredients not safe for pregnancy must be avoided at all costs. Some skincare products to avoid during pregnancy include certain sunscreens, nail polishes and hair products. It's important to run these products by your doctor before using them while pregnant.
Skin changes during pregnancy
When you're pregnant, the most common changes to your skin include:
A brighter face:

 

A pregnant woman's body produces 50% more blood. This increase in blood circulation can cause your face to be brighter.
A shiny, oily face:

 

Thanks to increased hormones, your oil glands can leave your face shiny. If your skin becomes too oily, try using an oil-free cleanser to clean your face.
More acne:

 

All of the extra oil mentioned above can cause extra breakouts. That's one reason that it's important to wash your face frequently during pregnancy.
Changes in your skin's pigment:

 

Extra hormones during pregnancy can lead to your skin's naturally dark areas -- such as freckles, moles, nipples, areolas and labia -- to become even darker.
Drier skin
Drier-than-normal skin is extremely common for pregnant women. It's usually reported in the stomach area because it's stretching to accommodate your baby, but dry skin can also happen on the thighs, breasts, arms or elsewhere.
If you're experiencing dry skin, try Balm from Cradle & Tonic. This multipurpose wonder balm is formulated to moisturise and help calm and soothe irritated skin during and after pregnancy. It provides intensive hydration to relieve sore nipples, chapped lips, dry cuticles and any other dry skin needs. Because it's blended with 100% natural nourishing oil and butter, this balm gives immediate skin repair.
Refresh and cleanse the skin
In pregnancy, it's more important than ever to keep your skin fresh and clean -- and because of changes such as dryness, irritation and acne (thanks to pregnancy), you have to be super gentle with your skin at this time too. Experts recommend gently exfoliating two to three times per week.
This shower and bath gel from Cradle & Tonic is specially formulated to leave skin feeling clean and fresh and soothe and moisturise skin during pregnancy. It's blended with natural ingredients such as aloe vera, frankincense, bergamot, lemon and vanilla. Plus, it's completely free of sulphates and parabens, which makes it 100% safe to use during pregnancy.
Use natural shampoos
There's never a better time to use all-natural products than when you're pregnant. You and your baby will both benefit! And when it comes to your hair, which shampoo is best for pregnancy? It's important to avoid harsh chemicals and find shampoos that only use natural ingredients. Be sure to read the labels to see everything in each product before you use it.
What's the best skincare for pregnancy stretch marks?
Oh, stretch marks. These appear when your skin stretches faster than usual, which is obviously super common during pregnancy. About 90% of pregnant women have stretch marks at some point during their pregnancy. Good thing there's Body Oil from Cradle & Tonic. This silky oil works to stimulate the production of collagen and encourage skin restoration. The vitamin E in it provides essential antioxidants to protect the skin. It's specially formulated with a blend of natural oils to help minimise stretch marks during and after pregnancy.
How can I get clear and glowing skin during pregnancy?
Here are some top tips to keep your skin clean, clear and glowing throughout your pregnancy.
Exfoliate and wash.

 

It's important to exfoliate your skin with a scrub two to three times per week when you're pregnant. It's equally important to wash your face with a quality face wash every single day and sometimes twice a day, if possible. This will help keep it fresh and oil-free. It's recommended that you use a clean, soft face cloth to gently deep clean your skin. Plus, use lukewarm water. A few minutes after washing your face, apply a layer of oil-free moisturiser.
Don't pick at your acne.

 

As tempting as it is to want to pop your zits, this can actually lead to the spread of bacteria, which causes more pimples. Instead, clean your skin thoroughly and then put on a thin layer of a gentle spot treatment in the morning and evening.
Get plenty of sleep.

 

Not getting enough sleep can lead to a wide variety of short-term and long-term problems, whether you're pregnant or not. So, do everything you can to get adequate sleep during pregnancy. This will not only help you feel better; it'll also help your skin look better. And, get all the rest you can now, because once that baby's born, sleep will be hard to come by!
Exercise often.

 

Studies show that a daily workout for pregnant women helps to increase circulation and blood flow, reduce stress and even tone the skin. Walking on a treadmill or outside even just 10 minutes a day will work wonders for your skin during pregnancy.
Eat and drink well.

 

Eating fresh fruits and vegetables during pregnancy is good for you, your skin and the baby in your belly. Be sure to wash all produce very well to remove the herbicides and pesticides that could harm your skin. In addition, drink plenty of water; eight glasses per day is a good goal. Your skin needs to be hydrated to get that pregnancy glow.
Conclusion
Being pregnant and preparing to bring a baby into the world is one of the most precious, life-changing experiences. Staying healthy throughout your pregnancy will help you and your baby, and getting into a good skincare routine will benefit both of you immensely. By following these pregnancy skincare tips, your skin will be healthy, youthful and glowing in no time. Enjoy your pregnancy!