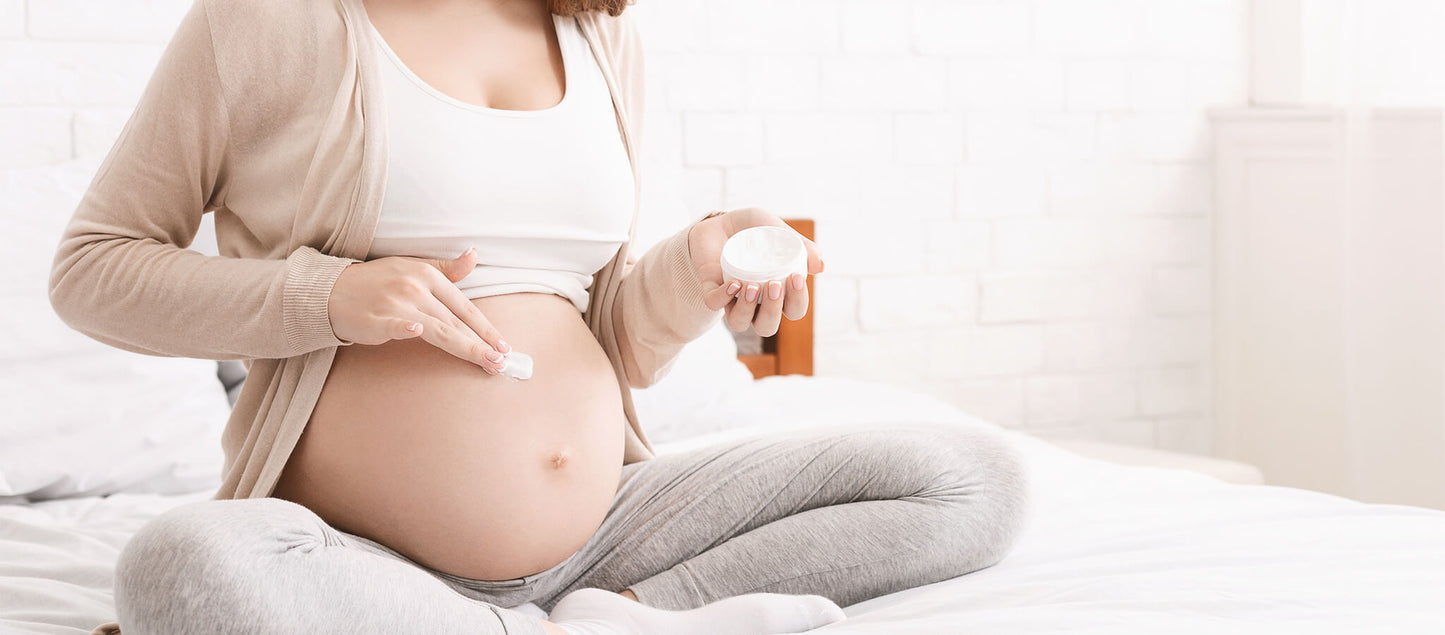 Understanding the difference between a balm, body oil, and body lotion
During your pregnancy, it's important to pay special attention to your skincare. With your body going through so many changes, your skin needs some extra loving care with the right skincare products and a routine you can feel good about. You may even have some questions about whether or not you can put body lotion on your face, or what are the body lotion benefits when it comes to preventing stretch marks on your stomach, hips, and thighs? Stretch marks are something that most women get during pregnancy, but there are ways to help prevent them from happening. They occur sometimes when the skin is growing and expanding quickly to accommodate that growing baby inside of you. Many women are concerned about preventing them from appearing on a few different areas of the body, like the breasts, hips, thighs, and stomach. 
Taking care of your skin during this important time in your life is not only great for your skin's health and may even prevent stretch marks, but it can also have lots of benefits for your total wellness in the way of self-care. When you take the time to use certain products, especially together, like a body oil, body lotion, and a skin balm, you're going to love how your skin feels. Nourished. Pampered. Radiant. Having the right glow not only comes naturally with being pregnant, but ensures that glow continues with the best in pregnancy skincare. 
 At Cradle & Tonic, we are a clean beauty company with these exact skincare products that will hydrate, prevent stretch marks, and soothe your skin during pregnancy, and after, as a new mum. Let's look into the differences between your pregnancy skincare products, so you know exactly how you should be treating your skin during this important time in your life. 
Balm 
Our Cradle & Tonic Balm is a unique product that you're going to fall in love with using. It's meant to be used on very dry and chapped areas, like the nipples, lips, cuticles, and any other place where excessive dryness is present. One of the best ways to use it is as a more natural lip balm. You'll want to have it by your bedside each night to soothe away any dry spots you have, to wake up with improved skin. 
Benefits of Using the Balm 
 With clean and natural organic hydration oils, like coconut oil, olive oil, and shea butter, this Cradle & Tonic Balm goes to work at infusing extra moisture into the skin anywhere you need it. It's completely safe to use during pregnancy and while breastfeeding after your baby is born. A skincare balm benefits the most dry skin, since it's known to be super nourishing, essentially shielding the skin from drying elements and smoothing away rough areas. 
How to Apply Body Balm on the Skin 
When you use our Cradle & Tonic Balm, it can be the final step in your skincare routine and kept close to you in your baby bag or handbag for touch-ups during the day anytime you feel dry or dehydrated. Scoop out a small dab of the balm, warm it up between your hands, and rub it into the skin. Don't forget to use it right before bed on your lips and cuticles to nourish throughout the night. You'll wake up to fewer flakes and dryness with its thick and luxurious feel. 
Body Oil 
The Cradle & Tonic Body Oil is another amazing pregnancy skincare product that you'll want to add to your routine. It's an aromatherapy-based body oil that will feel smooth as silk on the skin. With beneficial ingredients that nourish, including sweet almond and jojoba oil with vitamin E, the skin will feel exceptionally moisturized and ready to ward off those dreaded stretch marks. Plus, with aromatherapy benefits due to the all-natural essential oil content, you'll love the relaxation that lavender provides, with mandarin and petitgrain as citrus elements, that will brighten your day. 
Benefits of Using Body Oil 
The goal of the Cradle & Tonic Body Oil is to infuse super beneficial moisture into the skin, so that you are less likely to get stretch marks during pregnancy. Your skin will also feel less irritation and the way that the oil seamlessly absorbs into the skin feels amazing. Sometimes, when the skin is stretched during all the stages of pregnancy, you may have a feeling of itchiness. The body oil will help to soothe some of that itchy feeling. The overall goal with body oil is to maintain the healthiest skin possible. Know that each time you use the body oil, you are doing something quite lovely for your skin. 
How to Apply Body Oil on the Skin 
Rub a generous amount of the body oil all over the skin, including your baby bump, hips, thighs, and breasts. Ideally, you'll want to do this skincare routine twice a day, morning and night for the best results. Keep in mind that our Cradle & Tonic Body Oil is meant to go on the skin after your body lotion. It seals in the moisture, acting as a shield to keep the skin hydrated and healthy. You can also use this after the baby is born to continue with toning up the skin and preventing dehydration. 
Body Lotion 
Body lotion is a product that you only want to use on your body. It's not formulated to be used on the face and may contain oils that are too heavy, potentially clogging pores. So if you are asking yourself, can you put body lotion on your face to save some money? The simple answer is don't do it because you'll run the risk of clogging your pores and getting acne breakouts. That's the last thing you want to worry about during pregnancy. 
 Keep in mind that the intense hydration is only meant for the body. It needs to have super-rich oils to prevent stretch marks from occurring. Using a body lotion underneath your Cradle & Tonic Body Oil is going to be your best defense in keeping your skin super hydrated to prevent stretch marks from happening. 
Benefits of Using Body Lotion 
The benefits of a body lotion are going to be giving your skin a glow, reducing dehydration, soothing rough patches, and preventing premature aging in the skin. When you use a body lotion twice a day, you'll notice how much your skin responds to the extra hydration. It will feel softer, smoother, and more even in tone and texture. Skin that is properly hydrated will also feel tighter and more toned. 
How to Apply Body Lotion on the Skin 
 Body lotion is meant to be used starting at your decolletage and going all the way down to your feet. Use it morning and night, especially after a shower or bath. The body lotion is meant to seal in moisture and prevent dehydration that comes from hot water and the elements outside, like cold temperatures and blustering wind. If you tend to have naturally dry skin, you'll notice that using a body lotion in combination with Our Cradle & Tonic Balm and Body Oil is going to be your best line of defense in preventing stretch marks, aging skin, and general dryness. 
The Differences in Summary 
There are some key differences between a balm, a body oil, and a body lotion. Our Cradle & Tonic Balm is going to be the thickest of the three pregnancy skincare products because it's only meant for extremely dry areas of rough skin or places that are prone to chapping, like the nipples or lips. 
The Cradle & Tonic Body Oil is also different because it's thicker than a lotion and meant to be more of a protective layer that seals in moisture after you use a body lotion. It provides a beneficial barrier, while hydrating at the same time, smoothing out the texture of the skin, making it feel silky soft, and smooth. 
Which One is Best for You? 
 Ideally, you'll want to use all three for the best results in skincare. Use the Cradle & Tonic Balm as needed on very dry areas of chapping. That includes places like your lips, cuticles, rough elbow and knee skin, and even chapped nipples. 
 To prevent stretch marks, which practically everyone has the potential to get while pregnant, you'll want to do a twice-daily routine of your favorite body lotion in combination with Cradle & Tonic Body Oil. That way you're going to give yourself the gift of better-looking skin while pregnant and after your baby is born. It can be hectic taking care of a newborn, but carving out a few minutes twice a day to massage in your body lotion and body oil is going to be a level of self-care you need as a new mum. So pass that sweet baby off to your partner, and take a few minutes alone to yourself, so that you can reap the benefits of your skincare routine in peace. 
FAQ 
Here are some of the questions we hear most often from our clients at Cradle & Tonic. 
Do You Need to Apply Body Oil Before or After the Lotion? 
This is the biggest question we hear about the order of certain skincare products. It's easy to get confused when it comes to the application and timing of your skincare. When using a body lotion and oil together, it's proper to put on the lotion first, and then follow up with the Cradle & Tonic Body Oil, since it's going to help add moisture and lock it in over the body lotion. Apply your body lotion, and let it sink in to absorb for a few minutes, before massing on the body oil after. 
Can You Use Body Oil Instead of Lotion?
Yes, you can use the Cradle & Tonic Body Oil alone, instead of using it with a lotion. It's super hydrating on its own with body oil benefits, and will absolutely help to prevent stretch marks from forming on the skin while pregnant. If you are going to use only one body hydration product, you should choose a body oil for the many benefits it can bring to your skin making it healthy and radiant. 
Do You Make Any Other Skincare Products?
In fact, right now we do offer another skincare product. It's our Cradle & Tonic Shower & Bath Gel. This luxurious cleansing product will turn your bath or shower time into a soothing spa experience. With calming essential oils and soothing aloe vera, the combination will relax your senses to give you a moment of pure bliss away from the stresses of the day. Plus, it's free from harmful sulfates and parabens, so it's safe to use during pregnancy and after the baby is born.
 We also make a variety of wellbeing candles that are perfect for mum and baby. There's even a Cradle & Tonic Birthing Candle, which is a hand-poured artisan candle with aromatherapy benefits. The essential oil blend of clary sage, jasmine, rose, and neroli is meant for relaxation during the early stages of labour to support calm breathing. You'll want to pack this special candle in your bag to take to the hospital or birthing center to welcome your bundle of joy to the world. 
For Questions About Any of Cradle & Tonics Skincare Products
It's an exciting time in your life to be carrying a child into your world. We want you to have the best skin possible and feel totally confident in your pregnancy skincare routine. With our Cradle & Tonic Balm and Body Oil, you'll be well on your way to having beautiful skin that glows and is radiant with health. If you have some questions about how to best take care of your skin with our products during pregnancy and beyond becoming a mum, send us a message at info@cradleandtonic.com. Our knowledgeable skincare team will get back to you as quickly as possible. We'd love to hear from you!