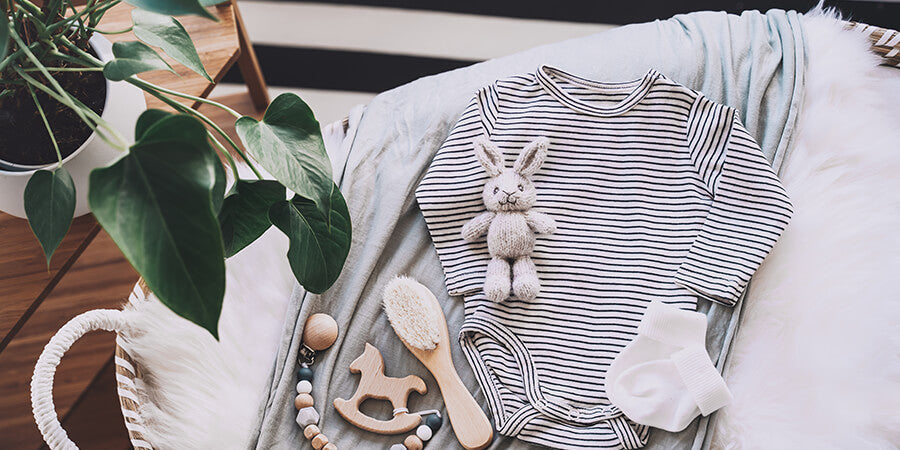 Choosing the best baby shower gifts for an expectant mother can sometimes be overwhelming. With such a range of gifts available - from the elegant to the practical - narrowing down your choice and getting them something they will cherish can feel like a tall order.
If you're lucky, the mother-to-be has written up a handy gift wish list, so you'll have a starting point to work from. But for everyone else it's time to put on their thinking caps and browse the seemingly never-ending range of products available for babies and their mothers.
Fortunately we've done the heavy lifting for you and compiled this extensive list of potentially awesome baby shower gift ideas. These span a range of products including gifts for the expectant mother and useful items for once the baby is born.
Whether this is your first baby shower or you're a seasoned veteran, there will be something here to meet your needs and budget. Read on to discover what to get for the baby shower parties heading your way.
Unique baby shower gifts
While it can be tempting to play it relatively safe with your baby shower gifts, sometimes it pays to think outside the box and look for something a little more unique than the standard flowers for the mother and toys for the child. Here are a few examples of more baby shower unique gifts for worth considering.
Loungers, swings, and bassinets
Bay loungers are the perfect gift idea if you're looking for a cozy place for the baby-to-be to have a well-earned rest. These pillow-like nests come in a wide range of styles and designs, some of which come with a slight incline to help support a newborn's head. Look for a baby lounger which features soft cushions and padding, and if they're machine-washable that's an additional bonus which the expectant mother is likely to appreciate.
If you want to include some additional gifts to accompany a lounger, why not pick up one of the knitted wool blankets from Harrods of London to add an extra level of comfort. While baby loungers aren't designed for babies to sleep in, the additional warmth and coziness is sure to be appreciated nevertheless.
Baby swings and rockers are a great way to bring a little bounce and motion to a baby's playtime, making sure they are engaged and having fun while giving mum a little time to relax. In addition to the gently soothing motion, some swings and rockers come with built-in toys and an array of melodies and sounds to stimulate the baby's senses.
Swings and rockers are available at all prices, from basic models to cutting edge designs such as the iCandy Newborn MiChair, available from John Lewis, which is inspired by designer furniture and functions as both a rocker and via docking onto the iCandy MiChair.
Continuing with the theme of baby shower gifts which help babies relax in style and comfort are bassinets, which are designed for babies from birth to approximately six months old. Bassinets come in a wide variety of styles, so if you have a chance to visit the mother-to-be's home before making your selection, you can try to find something which matches their existing home and decor.
If money is no object you can splash out on one of the top quality bassinets available from Harrods of London, for instance their Aistot faux leather bassinet. This hand-crafted bassinet is surrounded by cognac-effect faux leather for the impression of luxury and refinement. But if you're on a more modest budget, you can still find plenty of durable and attractive bassinets which combine form and function such as the Babyzen YOYO bassinet.
Strollers and high chairs
If you'd prefer to buy a baby shower gift which offers mother and baby a little more mobility, strollers should be at the top of your list. Strollers offer a perfect combination of practicality and ergonomics, delivering rugged designs which can be great for heading down the park for some fresh air and folding up to pack in the car when going on day trips.
When choosing a baby stroller, consider how active the parents usually are - if they're the outdoors type you'll want to pick up something nice and sturdy, for instance the Silver Cross Clic strollers from John Lewis, which are available in a wide variety of colours. If the mother-to-be is expecting twins, and you want to get a premium quality baby shower gift, consider opting for the YOYO complete pushchair for twins, also from John Lewis
Baby high chairs come in a variety of designs and colours, including traditional wooden high chairs and sleek modern designs which make dinner time for mother and child a pleasure rather than a chore. By positioning the baby at the same height as their parents, high chairs help to stimulate interaction, improving the baby's eating and developing their social skills.
You can find a nice selection of high chairs from Harrods of London which suit a range of budgets. The Tripp Trapp baby set manufactured by Stokke is an affordable high chair with versatile functionality, allowing mum to convert it from it from a regular chair into a high chair, complete with backrest, rail and extended gliders. Harrods also sell the premium Fresco high chair from Bloom, with a sleek contemporary design which won't look out of place in a modern kitchen loaded with the best appliances.
Unique baby gift baskets and hampers
Baby shower gift baskets and baby shower hampers are a great way to give a range of baby shower presents which can really express something unique and personal. We've put together a selection of unique baby shower basket ideas along with ideas for filling hampers with elegant and useful baby shower gifts.
There's plenty of options when putting your baskets and hampers together so you can pick and choose to make sure yours is unique. Hampers and baskets are also a great opportunity to include a few gifts for the mother-to-be, for instance adding a selection of candles from Cradle and Tonic's Motherhood candle collection. You can enhance the pamper factor even more with the addition of high quality skincare products derived from the best essential oils.
Baby hamper with toys
A baby shower hamper offers a great chance to put together a selection of baby shower gifts for boys or baby shower gifts for girls, just so long as you know the gender of the baby on the way. Alternatively, there are lots of toys which you can pick up for unisex baby gift showers, so if you're still waiting for that imminent gender reveal party and want to give a neutral gift, there's plenty to choose from.
If you're not sure what toys to fill your baby hamper with, here are a few suggestions:
Teddy bears

. This classic toy never goes out of style and come in all manner of designs.

Master Fortnum's Mason Teddy Bear

from Fortnum and Mason is a classy choice which comes with a golden ribbon and is made from super soft mohair.

Baby shape sorters.

These are a great affordable option which also helps a baby to develop dexterity and hand-to-eye coordination. 

Baby blocks.

Little babies can have hours of fun with building blocks, although they're much better at knocking them over than they are stacking them into towers! It's another great low budget toy option which brings added developmental benefits.

Rattles.

Simple toys which make a noise are loved by all babies (although parents may beg to differ!). They're also a great addition to a bumper hamper of toys for baby boys and girls.
Baby hamper with clothes
Hampers are incredibly versatile, so you can choose to fill them with something other than toys (and there's no harm sneaking in a few things the mother-to-be might appreciate as well, for instance a Bump pregnancy candle to help her unwind in the evening)
Clothes make ideal baby shower gifts for girls and boys, and you can fit plenty of them in your baby hamper. If you want a complete clothes hamper bundle with a selection of matching clothes already included, you can go for something like Harrods' cashmere baby boy hamper, which comes with a selection of adorable hats and tops.
If you'd prefer to pick and choose some outfits yourself, here are a few ideas for the kinds of clothes you could include in your baby hamper:
A wooly hat.

What baby doesn't look adorable in a wooly hat? If the baby is due in winter it's also a nice seasonally appropriate gift sure to get plenty of use. This

cute bear hat from Harrods

is a perfect addition to a newborn's first wardrobe.

A baby grow.

Baby grows are incredibly popular clothes for little ones, and come in all manner of patterns and designs. There are plenty of unisex baby grows too, in case you wanted to go for something gender-neutral.

A Woolen playsuit.

If you want to up the ante a little, why not pick up a playsuit for the baby shower? Some even come with a pair of boots for a full

outfit in one gift

. 

A coat.

Coats are ideal gifts for when the baby first ventures outdoors to make sure they stay nice and warm. The

faux fur teddy coat from Harrods

is guaranteed to keep away any chills while out in the stroller. 
Best baby shower gifts for feeding
If you're on a tighter budget and are on the look-out for cheap baby shower gifts, presents related to feeding time can help save money while making sure your gifts are practical. These gift ideas are also ideally suited for a baby shower gift set, and can be bundled together with a selection of other useful baby gifts guaranteed to help the expectant mother once their little one has arrived.
Bibs
Bibs are perfect gifts for those on a budget who want to get something practical. Guaranteed to get plenty of daily use, and whether you're looking for a baby shower gifts for girl or a baby shower gift for boys, there's plenty to choose from., for instance the bear bib and ballerina bib from Harrods.
Bottles
Like bibs, baby bottles are affordable items which will get plenty of use and are a great addition to a baby shower gift bundle. Pick up a cheap but cheerful bottle or splash out on something a little more special, such as the Pura Kiki Insulated Bottle.
You could also include a couple of bottles for the mother, such as a bottle of Cradle and Tonic's soothing aromatic body oil. You could also compliment this with a bottle of a different kind, and throw in the personalised champagne set from Fortnum and Mason.
Bonus: DIY baby shower gifts ideas
Presentation can make a world of difference to how a gift is received. Learning how to wrap baby shower gifts beautifully can enhance even the most humble of gifts while showing you've really put some care into the occasion. When it's time to wrap up your gifts, make sure you choose appropriate wrapping paper with an attractive ribbon and hand-signed name card to personalise the experience for the mother-to-be.
You can also go hands-on and give the mother-to-be and their baby a home-made baby shower gift, which is a great alternative for those who might be on a tight budget, or just love getting involved in handicrafts. There are a lot of guides available explaining in detail how to make baby shower gifts, so if this is the route you want to take Google will be your friend.
To help point you in the right direction, here are a few ideas to help inspire potential DIY baby shower gift ideas to get you started.
Diaper bouquets.

These attractive faux flower arrangements are incredibly easy to put together and hardly cost anything, making them an ideal last minute DIY baby shower gift if you're in a rush.

Cupcake gift cups.

If you're handy in the kitchen and like to bake, why not pop on a batch of cupcakes for the expectant mother (and you can always make enough to share with everyone else who attends the baby shower).

Crochet baby blanket.

Crocheting is a relatively easy skill to learn and shows you've really put some love and care into your baby shower gift. A crochet blanket will always come in handy, too, so you'll know your bespoke gift will be put to good use.

Handmade hats.

If you're a bit of a knitting whiz then a handmade hat is a great personalised baby shower gift which you can put together in relatively little time. Feel free to go wild with your choice of fabrics and designs to make this little hat an extra special gift.

Homemade mobiles.

Little babies adore watching mobiles as they drift off to sleep in their cots, and putting one together yourself can be done without having to learn any new tricky skills. If you're able to find out what colours the parents have planned for the nursery (or can sneak a quick look for yourself the next time you visit), you can conjure up a handmade mobile which matches the room.
FAQ
Still unsure how to go about selecting and purchasing baby shower gifts for a mother-to-be and their baby? Read through this FAQ, and we'll answer some of the more common questions about baby shower gifts to help you make the right choice.
If you haven't already read through our full guide, head back to the top of this page and read on to discover our suggestions for the top baby shower gifts available.
What is the best gift for a baby shower?
The best baby shower gift often depends on your circumstances. If you don't know if the mother-to-be is expecting a boy or a girl you should consider unisex baby shower gift ideas. Offering personalized baby shower gifts is another great way to show you've put some extra thought into the present, whether this means paying for a personalised message or making the gift yourself.
What do you never get at a baby shower that you need?
Practical baby-related products are sometimes cited as gifts which are needed but not often given, so if you wanted to fill out a stocking-style gift bag with some extra useful gifts you could include some cleaning supplies and diaper disposal items. Larger items such as strollers and cribs aren't often given as gifts at baby showers, so if you're feeling flush getting a more costly item helps the parents-to-be to save money.
How much should you spend on baby shower gifts?
One of the most common questions asked about baby showers is how much should a baby shower gift cost? There's no fixed answer to this question, and the amount you choose to spend depends on whom the gift is for, your budget and the kind of gift you're thinking of buying.
The average amount usually spent on a baby shower is between £20 and £40, which gives plenty of room to choose a few items for mother and her baby. This won't break the bank, but you can still be highly creative with your choices and give a thoughtful baby shower gift the expecting mum will appreciate. When deciding what to get for baby shower parties, never pay more than you can afford.